Maintaining a Hartford threader is an expensive proposition, in terms of both money and time. To minimize your downtime and maximize your level of production, Reg-Ellen has developed a quick turnaround exchange system for Hartford slide assemblies that will let you hit the ground running when time matters most.
Rebuild in a box
---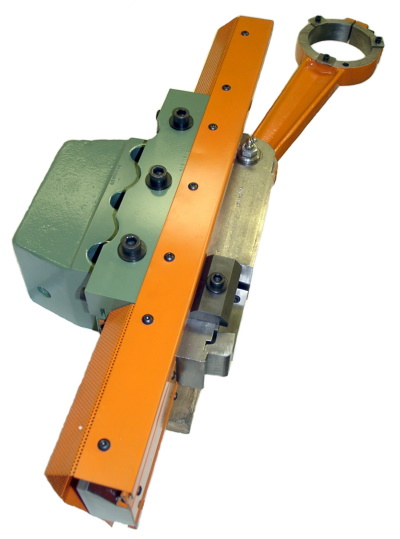 Return your threader to production in as little as 24 hours, by replacing your worn out slide and housing with a remanufactured unit. Our slide exchange program is as close as you can get to a "rebuild in a box". With our help, you can get your Hartford thread roller back into production, quickly and easily.
Our remanufactured housings are sand blasted, thoroughly cleaned (including all oil passages) and painted with heavy duty enamel. All bronze plates are machined to OEM specifications and hand-fitted to ensure that all sliding surfaces are straight, true, and correct.
The slides are straightened (if necessary), and reground for the correct angular contact. The die pocket is refitted to the correct height, and all bearings, seals, and guards are replaced with new items. This includes new fasteners and die clamps.
How the program works
---
We ship you a reconditioned slide and housing with an attached pitman arm, in a custom built wooden box and skid. This includes clearance setting instructions, a break-in procedure sheet, and a new oil filter pad.
You pull your old slide and housing, clean the machine and oil system, install the new filter pad, and bolt in the new slide.
Use the provided instructions to set the clearance and perform the break-in procedure.
You ship your old slide back to us, using the same box and skid.
For ordering, as well as more information, contact us today. We'll get you back up and running in no time flat!